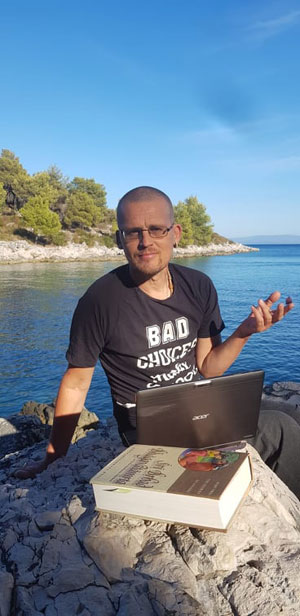 Madava, born in Bavaria/Germany, studied and practiced the ancient Jyotish Astrology, Remedies and Vedic Rituals from 1993 on in ancient Vaishnava Monasteries, specialized himself in the original Jyotish-Nakshatra (Star-constellation) Astrology and attained his final studies in the "Veden-Akademie" in Germany at the year 2000. In April 2000 he was appointed and initiated in the ceremonial Priesthood by a bona fide successor of the ancient Brahma-Madhva-Gaudiya-School (vaishnava-smriti) after 7 years of studies. Then he continued his studies in South-India and particularly in Westbengal-India/Mayapur with the teachings, guidance and help of expert teachers.
After regularly increasing his astrological knowledge and supporting and consulting people worldwide since 1996, he finally decided to reside permanently in Croatia Dalmatia. Any astrological assistance or consultation is optional in the English or German language. (self-recorded Sessions of the clients per mobile could later be translated by a Translator into their native language)
Jyotish-Nakshatra Astrology (Star-constellations) according to the date of birth:
The deeper meaning of Jyotish is "Knowledge of the Light". An explanation of the Verse 1.12.12 in the Srimad Bhagavatam or Bhagavad Purana, the summun bonum of the vedic scriptures, informs us about the practical use of this ancient knowledge: " The law of nature is so subtle that every part of our body is influenced by the respective stars, and a living being obtains his working body to fulfill his terms of imprisonment by the manipulation of such astronomical influence. A man's destiny is therefore ascertained by the birth-time constellation of stars, and a factual horoscope is made by a learned astrologer. It is a great science, and misuse of a science does not make it useless."
In our experiences this vedic wisdom is practical proof that each person has the tendencies and nature are naturally given and helps for finding ones individual nature, analyzing problems, talents and finding right remedies or approaches in our Life or particular situation.
Before performing any auspicious ceremony, a detailed astrological consultation (Jyotish and Nakshatra-Astrology) is advised for a better perspective, a wider overview and an insight into the necessity of specific remedies. Birth-date, birth-time (if possible) and birthplace are required for any astrological consultation.
Nakshatra-Birthday Calculations: Birthday Calculations help us to get an overview, see where we stand in our life, relationships and work and get an insight into the next practical and beneficial step or phase. Nakshatra- or Birth-star-Calculations show significant happenings and events and may surprise by indicating some aspects of our nature and long buried tendencies. They help to reveal our true self more, which is an important step toward realizing our freedom and our true identity. The analysis can lead one to the conclusion: "That's finally me!"
Auspicious Moment (Muhurtha) Astrological Calculations: There is a time for sowing, a time for reaping, a time to get married, a time to get a surgical operation or healing, a time to buy, build or demolish a house, to start or end a project or a company, a time for education and a time for starting a journey. Fortunate timings and auspicious hours (Muhurtha) for all kinds of different activities are always required for successful unfolding of any project.
Compatibility Astrology: What to expect in a specific relationship with a partner, friend, spouse or lover etc.. and how to become happier, achieve a balance and ensure a beneficial relation in a particular combination of two souls? What will then be the possibilities and tendencies of destiny? Where will it lead?
Astrological Remedies: Finding the right Remedies should actually be the main part of every astrological Consultation: to find out how and when to open an umbrella properly when dark clouds show up in the sky or when the noon-sun burns too intensely. Like an expert Doctor, after making an accurate diagnosis, will also prescribe the most appropriate cure and heal the Patient long term, similarly, an expert Astrologer will recommend and offer proper solutions according to the given time, place and circumstances, if desired.
Kontact:
via Phone – WhatsApp – Telegram – Viber – Messenger – Skype
Madava TEL: 00385 92 2136696 – please, ONLY written requests per WhatsApp – SMS – Telegram or Viber.